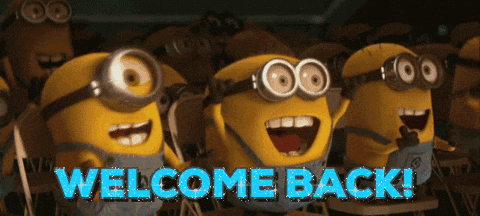 Welcome Back, Students! 
I pray your Spring Breaks were just as relaxing as mine! 
Important Announcements! 
> The Field Trip to the Trans-Allegheny Lunatic Asylum will be THIS TUESDAY! We will pack up after recess and walk over around 12:15 pm. We will be there for the duration of the afternoon!
******** PLEASE REMEMBER TO BRING THE $20 FOR THE FIELD TRIP IF YOU HAVE NOT ALREADY PAID! Monday morning is the best time, as Tuesday will be chaotic trying to retrieve the money. I hope you're excited! 
******* I also need 2/3 more chaperones to attend! If you choose to go, you must (I'm sorry) pay the $20 to do the full floor tour with us and will need to sign a waiver. PLEASE let me know by tonight or tomorrow at the latest if you can go! 
> Class picture day will occur Thursday and Friday (May 2nd and May 3rd) of this week! We will be wearing our formal uniforms! For times, I will let you know! 
> The Book Fair also occurs this week. If you wish to participate, make sure to bring your money! 
> The ACRES test for Religion will occur on Thursday of this week. Review will take place on Wednesday! Please be preparing for this as Mrs. Warn is so excited to finally tackle it. 
> Latin final drafts are due soon! I pray you are working extra hard to get those papers finished! They are worth an immense amount of points. 
> We are now entering the month of May (aka 4 weeks left of school)! It is crunch time. Parents, please regularly check RenWeb for missing grades. Almost all grades are up to date, unless your child was absent or an assignment is still at a low percentage or missing. Fourth quarter ends very soon. 
> This school year has, indeed, been one for the books. However, we have had such a great group of students! We are very blessed. Let's end this year on a high note! 
See below for specific class announcements. 
Reading/Language Arts: 
This week, we will be continuing our poetry lesson whilst learning about specific character/story development. Each day, we will be writing a different type of poem and creating our own booklets. These will be original pieces ~ no copying off the internet! Monday, we will be learning about and working on a Haiku. Tuesday, we will be focusing on cinquains. Wednesday will be limerick and Thursday will be lists. As Friday is a block schedule due to morning mass, we will not be completing an RLA assignment. 
Remember to keep up on IXL and AR Points! 14 are due by the end of May!
History: 
We will be creating our interactive notebooks on Monday. You NEED to have a notebook specifically dedicated to social studies. Most of you have used it throughout the year. We will be reviewing what we learned before break ~ specifically, the Articles of Confederation, Philadelphia Convention, the Constitution, and key figures, such as: President George Washington, James Madison, and Ben Franklin. 
Once the interactive notebooks are complete, we will be learning about President Thomas Jefferson, westward expansion, the Louisiana Purchase, and Lewis and Clarke. We will continue doing activities in our interactive notebooks, as well as other corresponding activities outside of it. Should be fun! 
There will be a "Build your Hut" project coming up soon. Be on the lookout for project guides and details! It'll be hands-on, not written based this time. (This should make some of you happy) 
Can't wait to see you!
Any questions, please let me know. Email me at any time!
Love and Blessings,
      Ms. Bush
Science:
Math:
With Love Always, 
    Mrs. Ammons 
St. Patrick School Mission Statement 
St. Patrick  School provides a safe, caring learning environment that fosters individuality, spiritual and physical well-being of all students, and prepares them to live and learn in an ever-changing world.